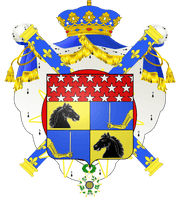 The Civitatis Forum is a private discussion and research forum for Heads of Diplomatic Missions.

Speakers to the Civitatis Forum include:
Sir Peter Marshal KCMG CVO, former Deputy Secretary General of the Commonwealth and United Kingdom Permanent Representative to the United Nations Office in Geneva. (Chair of several Civitatis Policy Seminars for the Ambassadors to the Court of St. James's).
Professor Sir Colin Berry, Knight Principal of the Imperial Society of Knights Bachelor.
Baroness Neville-Jones DCMG PC, former Minister of State for Security and Counter Terrorism and the Prime Minister of the United Kingdom's Special Representative to Business on Cyber-security.
Federico Mayor Zaragoza, former Director General, UNESCO.
Daniel Ottolenghi, Head of the London Office of the European Investment Bank.
Christopher Drennen, Managing Director and Head of Capital Markets and Advisory Solutions for BNP Paribas.
Sir Jeremy Greenstock GCMG, former Permanent Representative of the United Kingdom to the United Nations, Chairman of Lambert Energy Advisory Ltd. and Gatehouse Advisory Partners.
Professor Roger Cashmore CMG, Chairman of the United Kingdom Atomic Energy Authority.
Major General Andrew Ritchie CBE, former Commander of the Royal Military Academy of Sandhurst.
Professor Alan Lee-Williams OBE, Member of the Trilateral Commission.
Professor Micheal Cox, Director of LSE IDEAS and Emeritus Professor of International Relations at the London School of Economics, former Chair of the United States Discussion Group at the Royal Institute of International Affairs.
Professor Maurice Fraser, Vice-Chair of the Franco-British Council, Special Advisor to three successive British Foreign Secretaries and former Head of the LSE European Institute.
Edward Mortimer CMG, former Director of Communications in the Executive Office of the United Nations and speech writer to the UN Secretary General.
Geoffrey Robertson QC, Founder and Joint Head of Doughty Street Chambers.
The Honorable Anne Marie Lizin, Honorary President of the Royal Senate of the Kingdom of Belgium.
Professor Christopher Coker, Member of the Council, Royal United Services Institute.
Michele Griffin, Senior Policy Advisor to the UN Secretary General.
H.E. Andrii Kuzmenko, Acting Ambassador of Ukraine.
H.E. President Mikhail Gorbachev, former President of the USSR (Via written address).
Jan Mortier, Chairman, The Civitatis Forum.